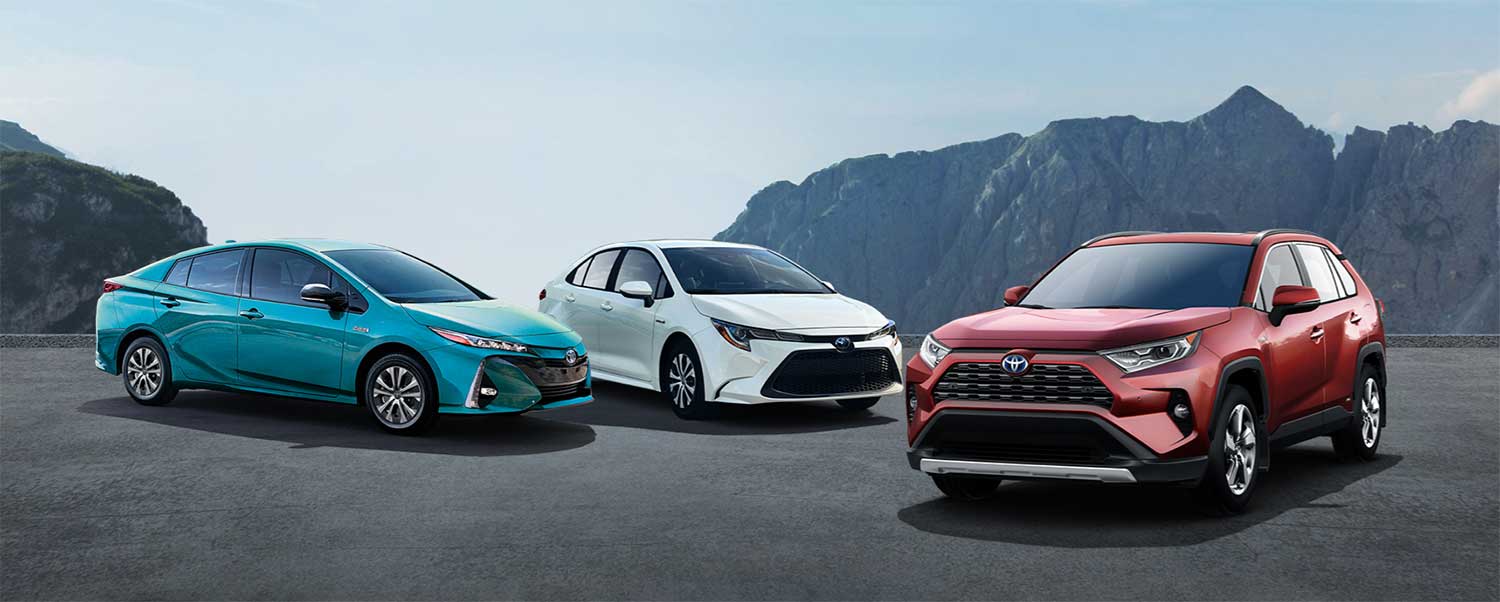 Learn More About Toyota Hybrid Vehicles
Toyota Hybrid Electric Vehicles (HEVs) combine gas engines with electric motors to generate electricity as you drive. While your vehicle is in motion, Toyota's Hybrid Synergy Drive seamlessly, and automatically, chooses the optimal source and blend of motive power. And because the system recharges as you drive, you never need to plug-in the hybrid electric vehicle.

STARTING UP
In most conditions, only the electric motor is engaged, saving fuel and delivering instant torque with minimal emissions.

ACCELERATING AND CRUISING
The gas engine and electric motor team up to provide the ideal mix of power for seamless acceleration. Excess energy is used to help recharge the battery.

DECELERATING AND BRAKING
The electric motor takes over. The regenerative braking system converts braking energy into electric energy to help recharge the battery onboard the vehicle.

RESTING AND REVERSING
When stopped, the gas engine shuts down to conserve fuel – unless the battery is running low. When reversing at low speed, only the electric motor is required.
Plug-in Hybrid Electric Vehicles
Toyota plug-in hybrid electric vehicles (PHEVs) operate much the same way as regular Toyota hybrid electric vehicles (HEVs). However, they can also be optionally plugged in - enabling you to extend your electric-only driving range. RAV4 Prime and Prius Prime are great examples of PHEV technology.
Toyota Corolla Hybrid
1.8L Hybrid Synergy Drive
Compatible with Apple CarPlay and Android Auto
Smart Key with Push Button Start, and 7" Digital Speedometer
TSS 2.0 & Blind Spot Monitor with Rear Cross Traffic Alert
Available Premium Package
Heated Front Seats, and Automatic A/C
Toyota RAV4 Prime
302 HP 2.5 Litre, 4-Cylinder, Hybrid Synergy Drive with 68 km range on EV alone
Intelligent Electronic On Demand All Wheel Drive
8" Display Screen, 6-Speakers & 5 USB slots, compatible with Apple CarPlay and Android Auto
8-way Power Driver Seat, Heated Front Seats & Heated Leather Steering Wheel
Toyota Safety Sense 2.0, and Blind Spot Monitor with Rear Cross-Traffic Alert
Smart Key System (3-door) with Push Button Start